So I'm somewhat of a worrier when it comes to my health. I've been in and out of hospital (mainly checking myself in) with various mystery conditions ranging from tick bites (the possibility of contracting Lyme Disease) to tingling nerve sensations all over my body.
I'm on various medications for my anxiety, depression and slight psychosis; I'm perfectly mentally stable…however my mind does wander, usually on to my health.
A few years ago I noticed an outbreak of these little red spots all over my body. Immediately I was worried, thinking I had some exotic disease or some part of my body was failing. I saw many dermatologists, chief haematologists and general doctors and they all called these red dots Cherry Angiomas or Campbell de Morgan spots.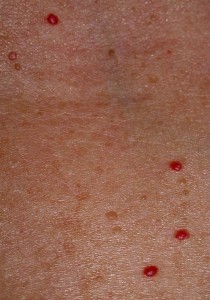 They all agreed that they were benign malfunctions of the skin and I had nothing to worry about. However, they all said it is unknown what causes them.
So me being me, I was determined to find the cause. Because in my mind, the strange onset of literally hundreds of these tiny red spots has a cause, either internally or from environmental factors poisoning my body.
They are sometimes large, but sometimes a lot smaller – almost the size of a pin head (or prick).
What I think causes these red dots
While there are many things that are know to cause cherry angiomas such as age, hormone imbalances and even exposure to mustard gas, the less documented and most probable cause is bromine toxicity.
Maybe I'm getting more that most people because I'm currently taking an antidepressant called Citalopram Hydrobromide (aka Celexa) which is Citalopram bound to bromide.
What is bromine?
Bromine is a chemical element that is found in many processed food sources such as bread. It is used to make food last longer before going stale and increase the shelf life.
Bromine was actually used during the World Wars to suppress the sexual drive of service men overseas.
Bromine is toxic to the human body and can be somewhat carcinogenic.
Bromine can build up in your body and take over cell iodine receptors because the atomic structure of bromine is so similar to iodine that the human body is mistaken. Eventually there will be nowhere to store this excess of bromine and from my own research and studying have realised that it is finally stored in the skin, thus resulting in cherry angiomas or Campbell de Morgan spots.
There is only really one way to flush your body of bromine and that's by consuming good sources of iodine.
Why do we accumulate excess bromine?
We really have no way to process excess bromine and with modern day diets, we eat foods containing less and less iodine. A long while ago, companies started to add iodine to salt (iodized salt) however with the health scares of using too much salt on our foods, we are not getting enough iodine.
The RDA of iodine in the United Kingdom is currently set at 100 micrograms (100 µg). However, from research it is found that the people of mainland Japan are taking in as much as 12.5mg (12500 µg) daily from food such as sea kelp and certain kinds of fish.
The Japanese are one of the healthiest nations with extremely low cancer rates and low thyroid function problems. Could this be why?
Iodine rids the body of bromine and heavy metals, halides and toxins.
Every cell in our body is programmed to use iodine in one way or another. Iodine is also the partner to the programmed cell death and generating new cells in the body. Most of our iodine is stored in our thyroid gland and this gland uses the most iodine for its functions.
What's the difference between Bromine, Bromide and Bromate?
Bromine is a base element, which bromide and bromate can be formed from.

Bromide is the ion. Formula is Br- (with the – at the top). Can be ionically bound to another ion, e.g. sodium bromide, NaBr.

Bromate is another type of ion, but there are oxygen atoms as well. Formula is BrO3- (with the – at the top).

Iodine and iodide has the same relationship between bromine and bromide.

– From Yahoo Answers
What can I do to get rid of these spots and clear my body of bromine?
Well I've recently started taking iodine supplements in high dosage.
I've started on a dose of 50mg per day for a period of three months. This will saturate my body with iodine and kick start the detoxification and repair process. Once optimal saturation has been reached I'll then stay on a steady dose of 12.5mg for the rest of my life.
Along with iodine, I'm also taking a mixture of many vitamins to help the detoxification process.
The quote below is the suggested method for iodine supplementation, as recommended by a group of researchers – this was publicized at an iodine conference in 2007.
Recommended Iodine Supplementation program
50 mg Iodoral minimum for breast cancer (may start with 12.5 mg).
Some practitioners may recommend another form of iodine such as Lugol's solution.
Iodoral is the Lugol's formula in tablet form especially designed to avoid gastric irritation.
Vitamin C – 3,000 mg per day (more may be necessary to detox bromide).
300-600 mg magnesium oxide (Iodine Investigation Project participants prefer magnesium glycinate or magnesium citrate.) I actually prefer the Chelated Magnesium by Solgar; it's the most absorbable version for maximum benefit. If you really want almost 100% absorbtion, you should use a "Angstrom" or ionic magnesium suppliment.
200 mcg selenium. The selenomethionine version is preferred by many.
500 mg niacin (B3) twice a day (NOT niacinamide). Start lower to avoid flush.
100 mg Vitamin B2 three times a day.
A comprehensive vitamin and nutrition program.
From my own research I also recommend the following in addition to the above
Bathing twice weekly in Epsom Bath Salts (Magnesium Sulphate) to increase your magnesium intake as it's best absorbed and utilised through the skin. You'll need a lot. While Epsom salt baths are great for increasing your serum Mg levels short term, it's better to use something more long lasting like the Ancient Minerals Magnesium Chloride oil that stays in your body properly.
Daily use of a Liquid Zeolite detox programme – the Results RNA spray one is the BEST – it's the most usable with much higher surface area for toxin extraction.
Seriously increasing your magnesium intake.
While I don't know if this will clean up my cherry angiomas for good, I can tell you that after taking iodine for two weeks I'm already noticing a decrease in their size and numbers.
I have also started to apply Iodine topically to the cherry angiomas to see if that helps. I used Lugol's Iodine which is part Iodine and part Potassium Iodide.
I'll keep this blog post updated with the results as they unfold so stay tuned!

VIDEO: Iodine Presentation by Dr. David Brownstein
Update Nov 2012:
I have concluded that my main source of toxic bromine/bromide is from my antidepressant medication (Citalopram Hydrobromide). I have successfully weaned myself off this medication from 20mg/day down to 2.5mg/day, and as of next week I will be off of it completely (I'm going to blog about my experience coming off this SSRI medication and will link to it from here, so watch this space). You can view the official ChemWatch safety sheet information on Citalopram Hydrobromide here (PDF).
Once I'm totally off, I'm going to start my Iodine plan again after I have completed an Iodine/Bromide 24 hour urine test to see my level of toxicity. Hakala Research do a great test here.
Once I've loaded myself with Iodine/Iodide for a period of about 6-12 months (at 50mg Iodoral per day), I will check my saturation levels doing another urinalysis test and decide how much longer I need to continue loading after that. Once I'm at saturation, I will continue on 12.5 mg of Iodine/Iodide for the rest of my life to combat everyday interactions with these toxic elements – for example fluorinated water, fluorinated toothpaste, chlorinated swimming pools, sofas/carpet with bromide as a fire retardent – these toxic elements are all around us – it takes a moment to realize how toxic the world we live in today really is.
Update April 2013 – My Iodine Loading Test Results:
I forgot to mention in previous updates that shortly after I discontinued use of the Citalopram medication I sent off for a Iodine loading test and bromide excretion test. The box arrived to me in the UK and had a urine container, specimen vile and a 50mg Iodoral tablet for the test. I followed the test instructions, collected my urine samples and set off my specimen via UPS to the lab at Hakala Research in Colorado, USA. The test requires you to stop iodine therapy 48 hours before doing the test to get a better reading. The test required me to take an Iodoral 50mg tablet in the morning and collect my urine for a full 24 hours after taking it.
Shortly after them receiving my urine (the day after I sent it) the test results arrived back the same day via email.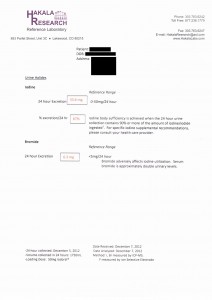 My results were as follows:
Iodine
24 hour excretion: 33.6 mg
% excretion/24 hr: 67%
This had a reference range of 0-50mg/24 hours because I took a 50mg tablet. They also mentioned on the results, "Iodine body sufficiency is achieved when the 24 hour urine collection contains 90% or more of the amount of iodine/iodide ingested".
So this showed that I wasn't totally deficient any more, I was actually getting somewhere with my therapy. However, this result can be a little inaccurate… which I will explain further down.
Bromide
24 hour excretion: 6.3 mg
This had a reference range of <5mg/24 hour. So I was over the reference range and excreting lots of bromide. I actually questioned this with Abbey at Hakala Research.
I said:
I have been taking Citalopram Hydrobromide (Celexa) for about 7 years which of course has given be lots of bromide over time. Before the urine collection, I had been off this medication for about two weeks.

With a 24h urine collection containing 6.3mg bromide (around 13mg for blood) – is that reading high or low in comparison to average test results?

And of course, if I excreted 67% of the 50mg Iodine in this test, could it be because my high bromide levels were causing the body not to "hang on" to the iodine and letting it pass through me? I.e. if I got my bromide levels down over time, perhaps the excretion % of iodine could actually decrease and then slowly increase as I continued supplementing with iodine?
Abby from Hakala Resarch replied with:
The 6.3mg Br is elevated compared to the U.S. average of around 2mg. Because bromide is excreted slowly from the body, I believe that if you would have done the test while taking the Celexa it may have been slightly higher.

You are correct about the iodine bromide interaction. Iodine will speed the detox. of bromide from the body, also, increasing your salt intake would help.
So I'm going to carry on with supplementing with iodine until I get around 90+% saturation. To get to 67% I was on 50mg of Iodoral for about 3 months (on and off).
I'd love to hear your comments below and your experiences with angiomas and iodine.